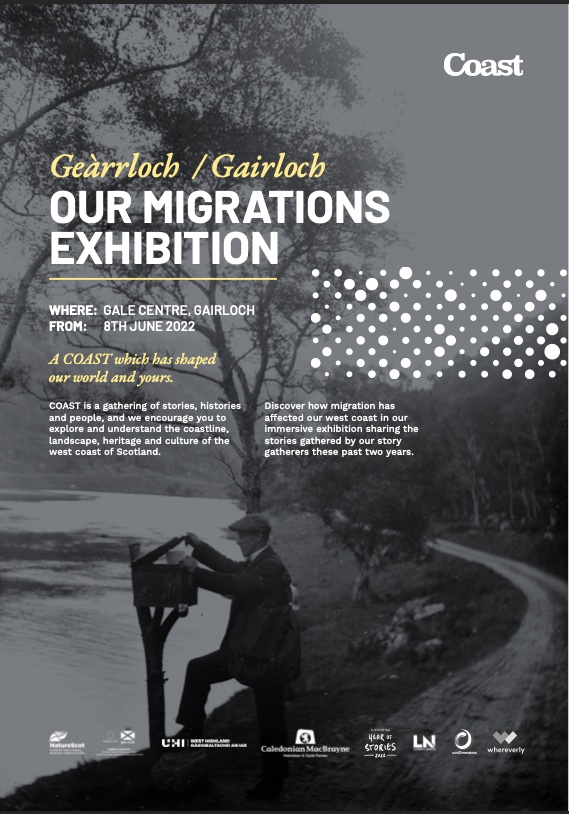 Four exhibitions were created for the project launch in 2022, and we are currently working on a plan to continue sharing the contents as widely as possible across the west coast. Updates will follow, and in the meantime, you can have a browse through them via the virtual exhibition platform.
The exhibitions look not only to the stories of the past but also to the future and how the world is shaping the west coast; the exhibitions focus around the themes of Our Productive Landscapes and Seascapes, Our Migrations, Our Communities, and Our Changing Environment, actively encouraging people – locals and visitors alike – to contribute their stories of the west COAST of Scotland.
The exhibitions are designed and curated by the COAST project coordinators Lateral North and ruralDimensions. The project is led by the University of Highlands and Islands (UHI). COAST is part of a new £5 million Scottish programme of projects to invest in the Highlands and islands to provide more and better-quality opportunities for visitors to enjoy natural and cultural heritage assets. The Natural and Cultural Heritage Fund is led by NatureScot and is part funded through the European Development Fund (ERDF).
The Natural and Cultural Heritage Fund encourages people to visit some of the more remote and rural areas and create and sustain jobs, businesses, and services in local communities. The purpose of the fund is to promote and develop the outstanding natural and cultural heritage of the Highlands and islands in a way that conserves and protects them. Match funding for the project has also come from Caledonian MacBrayne (CalMac) and UHI West Highland, giving the whole project a value of over £500,000.
For latest exhibition and events information, follow us on Facebook, Twitter or Instagram.